Name of each part of the Japanese garden stone lantern
Do you know the name of each part of Japanese stone lantern?
Take the Kasuga Lantern as an example: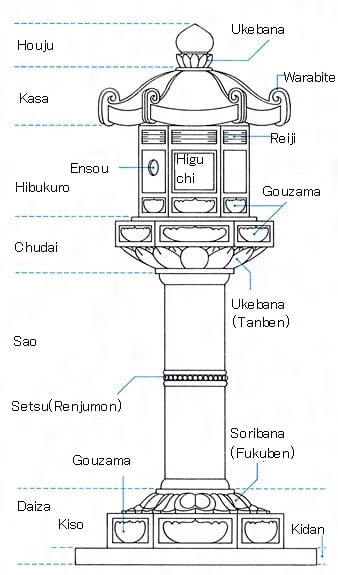 1. Kidan(基壇,Stylobate)
The Kidan(stylobate) is big flat stone to touch the ground and to publish the whole of lantern.
2.Kiso(基礎,Base)
Kiso (Base) is the basement of lantern, and the other part is else in the boiling and in case of Ikekomi type (Embedded type) lantern, Kiso (Base) doesn't exist. In the plane of the square, the hexagonal-shaped, the octagon, the circularity and so on, there is one which kouzama and a geometric crest are carved in in the side. As for the surface, the lotus petal which was made a design is generally carved. There is another name of Kiban, Daiza, Kutsuishi, Jirin and so on, too.
3.Sao(竿,Shaft)
Sao (Schaft) is the part to support the upper part of lantern by most shaped-ly like the column by. In case of Ikekomi type (Embedded type) lantern, it enters directness in the ground and in the one of the variant like Yukimi type lantern, it turns to some separately. There is joint (obi) for the decorations at the center of the pillar, or in the upper part and the lower part but for the garden, the one which doesn't have joint paragraph is generally used except for votive lantern and mokoku.
4.Chūdai(中台,Platform)
Chudai (olatform) receives Hibukuro (lamp housing), in the form as it made above-mentioned Kiso (Base) opposite, it puts in Sao (schaft) and seems to make a symmetrical form.
5. Hibukuro(火袋,Lamp housing)
Hibukuro (lamp housing) has a square, hexagonal-shaped, an octagon and so on in the main part to let in lamplight. It opens general and square higuchi (fire inlet) and the surface where there is not higuchi sculpts. , The circularity shows the sun and the crescent includes the one which shows the moon, too.
6. 笠(Roof)
There are much squares, hexagonal-shaped in Kasa (Roof) and there are an octagon and circular one, too. A lot of one where the spiral decorations which are said to be warabite (furled bracken) are done, too, are seen by the eaves of Kasa (Roof).
7. 宝珠(Jewel finial)
As for Houju (Jewel finial), it is at the center of the upper part of kasa (roof) a little and a tip is a little shown as the pointed form by the globular shape. There is one where the decorations which are called ukebana (flower bowl base) which showed a bud at the stand and the lotus flower which is called roban are done, too, under Houju (jewel finial).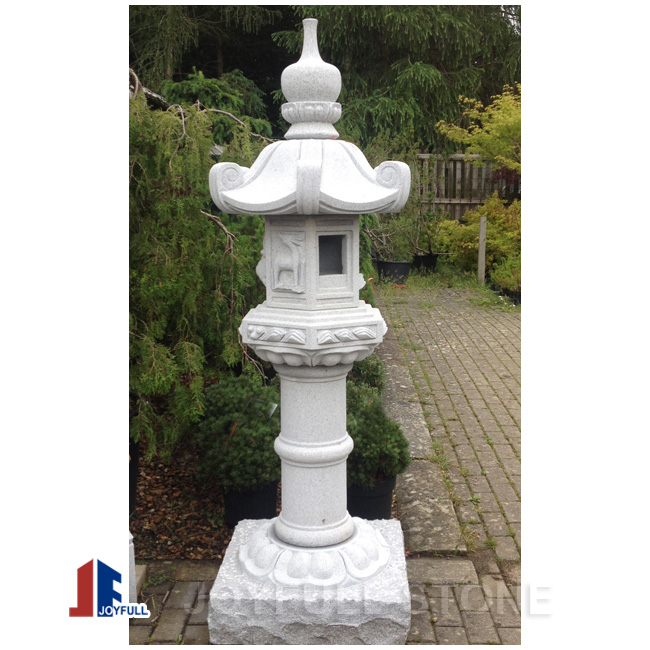 Kasuga Lantern